Other Information

Spitfire 4 Price List

See The Features

See The Specification

What Do I Get In The Box

Download A PDF Brochure

What Bundles Are Available

Buy Direct Now



• Compatible with Windows and Macintosh OSX straight from the box
• Mac OSX inc 10.9
• PC Windows inc 7 and 8

•
USB, Ethernet, Parallel and Serial Interfaces as standard

•
Super fast throughput

•
Direct Thermal and Thermal Transfer as standard

•
Robust and Easy To Use

•
Prints onto labels or tags

•
1-6 inches per second print speed

•
No extras required

•
For use in industrial, retail, office and other applications

•
FREE OSX 5 User Driver Worth £250

•
1 Year Limited Warranty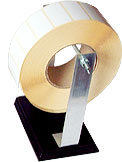 Optional External Label Reel Stand
• Comes complete with USB to USB Cables, OSX driver (5 user license) and Windows driver.
• SD memory card slot.
• Easy to set up, Peninsula QuickSetup guide included in box.
• Powerful Compact Label Printer
• Prints Barcodes, Text and Graphics from any application
• Prints any label size up to 4 inches wide
• Autosenses the length of the labels
• Standard Size Labels and Ribbons Available From Stock
• Does Not Require Special Labels
• Direct Thermal and Thermal Transfer Printing Mechanism
• Clam shell design offers easy drop-in loading of paper and ribbon supplies
• Sturdy Ribbon Feed Mechanism
• Attractive design with compact size
• Resolution: 203 dpi
• USB, Ethernet, Parallel, and Serial interfaces


Ethernet Interface

• High printing speed up to 6ips
• 100M Ribbon Length
• Print head temperature control
• Powerful hardware and firmware support
• External Roll Feed, Fanfold Slot and Internal Label Media Handling
• Can Print Single Labels or Runs of Labels
(Serial Numbers or Duplicates)
• Multi-functional optional accessories
• Special Fast Printing Spooler Software For Filemaker and 4D
• Transparent media window for label level checking.
• Rear feed slot for external label roll.
• Moveable sensor for small label sensing such as Jewelry labels.
• Retail
• Healthcare and Medical
• Inventory and Stock Control
• Office Automation
• Document Tracking
• Light Industrial
• Asset Tracking
• Item Tracking
• Library Applications
• Goods Receiving
• Goods Shipping

"The Spitfire is the most versatile label printer we have ever seen,
..."


• Ethernet, USB 2.0, Serial, and Parallel interfaces as standard
• Easy ribbon and media loading
• Fast throughput at up to 6 inches per second
• Small space saving design
• Super Fast 32 bit Processor at 200 MHz for fast "first label out"
• Standard 2 MB FLASH, 8 MB SDRAM and SD card slot for up to 4 GB.
• High quality ABS double-walled clamshell design
• FREE 5 User OSX Driver Worth £250
• 2-year limited warranty
Simplicity and Performance Standard From Peninsula

The New Peninsula Spitfire 4 thermal barcode printer is the perfect printer for all users. A Windows driver is included as standard and for the OSX user, Peninsula's own OSX Driver (5 user network license) using the in built ethernet port, or USB port enables you to print from any application through the standard print dialogs. Whether you have one user or 5 everyone is catered for.

Everything You Need Is In The Box

Other products say they include everything, this product does. Everything you require to start printing is included in the price: QuickLabel barcode label printing software, Windows and OSX drivers (single user license only), USB to USB and Parallel Port cables, Power cable (UK, USA and European plugs available, a simple plug change is all thats needed elsewhere), a starter Ribbon and starter roll of labels.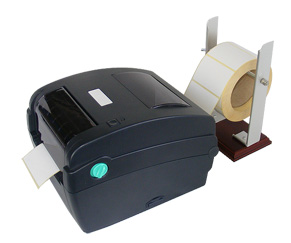 Low Running Costs

Unlike low cost labelwriter printers, the New Spitfire 4 has a consumable cost up to 20 times cheaper. This means lower running costs for you when labelling, in addition to the increased speed over low cost printers saving man hours, and the increased print width, the New Spitfire 4 is a much more sophisticated unit than other low cost printers.

The labels will not fade when printed in thermal transfer mode, as direct thermal labels do after approximately one year, and labels and ribbons are available with chemical resistance and other features for specific uses (such as use in freezers or with jewelry).

Faster Printing

The New Peninsula Spitfire 4 Thermal Barcode Printer prints at up to 6 inches per second, most printers in the same price range only print at 3 inches per second.

It also features both Direct Thermal and Thermal Transfer printing using standard printing supplies. With improved throughput allows it to print continuous data in most situations.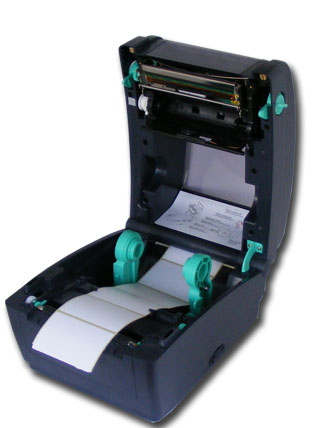 Faster Loading

The strong clam shell design makes it extremely easy to load supplies by simply dropping-in the labels.

You can also mount labels externally for access to longer rolls and less reloading.

Loading a ribbon is easy thanks to the robust mechanism. Simply open the transparent flap and drop in the ribbon.

The mechanism is designed to last, all parts are made from top quality ABS plastics and metal.

With Spitfire barcode and label printer can use any standard roll fed labels, or specialist labels such as Jewelry barbell and butterfly labels, that can be used with any Thermal or Thermal transfer printer.

It also uses standard size 1/2" (12.5mm) core ribbons which can be obtained locally to yourselves.

Fully Moveable Label Sensor

The Spitfire 4 has a fully moveable label sensor.

This means when you are using unusual labels such as Jewelry butterfly labels the sensor can be positioned in the optimum position to stop label misfeeds.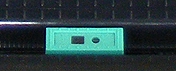 Adjustable Label Sensor

Multiple Connection Interfaces As Standard

The New Peninsula Spitfire 4 has USB, Ethernet, RS-232 Serial and Parallel Centronics interfaces are standard, which allow easy connection for the printer.

Cables for USB connection connection come with the printer.

SD Memory Card Slot

The Spitfire 4 now has an SD memory card slot to add extra memory for label templates if needed. Although the standard memory is more than adequate for nearly all users.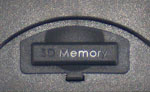 Windows and Apple Macintosh OSX drivers As Standard

The New Peninsula Spitfire 4 is the only thermal transfer printer in the world to come with drivers for both Windows and Mac OSX. The Peninsula Macintosh thermal drivers for this printer have evolved over 10 years and we know this is the best printer for the Macintosh market. The OSX installer even automatically discovers the printer and installs it for you.

The OSX driver is compatible with all versions of OSX greater than 10.3.9. Now due to popular demand supplied with a 5 user license to let you take advantage of the inbuilt ethernet port.

The Windows drivers are compatible with Windows 98, NT, 2000, 2003 and XP.

Durability Expected Of Printers 4 Times The Price

The New Peninsula Spitfire 4 is manufactured to a standard far in excess of other desktop sized printers. The machine is robust enough to be used in most environments and will last for years.

Full Support Backup With 15 Years Experience

The Peninsula team have been writing software for thermal printers for over 15 years. This means we understand the printers and will have a solution for any query that may arise. Full tech support from us is standard, no support fees are payable. Many of our products have a direct interface for this printer, QuickTrack Pro for example can print direct to the printer with no driver and complete integration is standard.

No Compromise Fast Efficient Thermal Transfer Barcode Printer

The New Peninsula Spitfire 4 combines effective, speedy barcode and label printing with ease of use unparalleled in the industry.